Get Involved
The Lower Dauphin Falcon Foundation (LDFF) is an independent public charitable organization dedicated to encouraging community-wide participation and philanthropy to enhance and expand enrichment opportunities for all students in the Lower Dauphin (LD) School District. It is the LDFF's goal to ensure long-range financial flexibility for schools within the district.
Educational Improvement Tax Credit Program (EITC)
As a non-profit 501(C)(3) organization, the LDFF has opportunities for businesses to donate and receive tax credit. The following are the programs designated for these funds: technology enhancement (robotics; distance learning tools and programs) and academic enrichment (pre-kindergarten program, Falcon Foundation Camp, summer programs, guest speakers, etc.).
Volunteer (Board and Committees)
The LDFF is always in need of energetic, enthusiastic individuals who are dedicated to the LD community. If  you are interested in joining our board, please complete a LDFFBoardInterestForm and email it to foundation@ldsd.org. The board of directors meet five times during the school year and support the Foundation by providing strategic and operational mission-based leadership, advice and support. While the Foundation's Program Manager manages day-to-day operations, an appropriate amount of involvement of the Board is critical and expected. In addition to the Board, we have numerous committees and we welcome your help. Please contact us for more information by phone (223) 270-5419 or email at foundation@ldsd.org.
General Donations
Several different methods are available for you to donate to the LDFF:
General Contributions;
Project Specific or Donor-Directed Contributions;
Contributions in honor or memorium (special form);
Business participation in the tax-credit program (EITC).
General donations can be made online (via PayPal) or sent by mail (simply download a PledgeForm .doc or PledgeForm .pdf).
Please make your check payable to LDFF and mail to: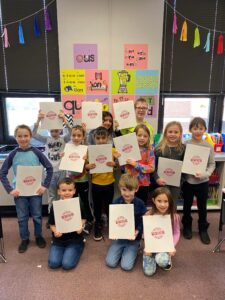 Secret Stories (Phonics Program), 22/23
1st Grade, Nye Elementary